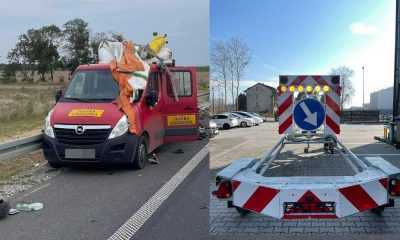 On the left – a road workers car destroyed after a fatal accident on the S5 route in Żnin County in September this year. On the right – the crash cushion that absorbs the energy of the vehicle impact Source: Police / Saferoad
GDDKiA in Poland introduces Scandinavian standards for the protection of road workers. From next year, works on highways will have to be secured by a truck with a crash cushion.
Securing road works in Poland is a serious problem. Even on expressways or highways, there was no requirement for companies conveying maintenance jobs to use crash cushions – allowing them to absorb the energy of a collision during an accident. It is still not safe at work sites on polish expressways and motorways. Two months ago – on September 8 – there was a tragic accident on the S5 road in Kujawsko-Pomorskie, near the village of Sobiejuchy. A truck driver crashed into the rear of a Road Service Opel Movano in the emergency lane. Road workers conducted works related with mowing grass. A 58-year-old road worker, an Opel passenger, died in this accident.
Just a month later, the tragedy occurred on another section of the S5 route – on October 4, in the middle of the day, a Volkswagen Touran driver crashed into a road service worker who was working between the Konarzewo and Stęszew junctions (Wielkopolska). The struck worker died.
Such accidents do not have to end so tragically. This is best illustrated by an accident that happened around the same time (September 19) on the Austrian A9 motorway. The driver of an Iveco truck was not careful and ran into a team of road workers. They, however, were protected by a truck with an attached crash terminal. After hovering over it, the terminal took over the energy of the collision and braked the truck – none of the employees suffered, only the perpetrator of the accident required medical assistance.
From next year, Polish road workers will be as well protected as the Austrians and the Scandinavians. The change is introduced by the Regulation No. 18 of the General Director for National Roads and Motorways (GDDKIA) of July 26, 2022. In this document, the head of GDDKiA indicated schemes for securing works on expressways and motorways – each of them includes a truck with a crash cushion, which is to be placed directly in front of the place where the road service will work. Until the end of this year, the schemes of such organization were not obligatory, from 1 January 2023 they will already be.
– Crash cushions will indeed be a standard from January 1 next year – says Aleksander Glowania, director of vertical signage at Saferoad, from brd24.pl. – It can be a TMA device installed permanently on a car, or a TTMA in the form of a trailer. Both meet the requirement of this security. This obviously requires some reorganization of contractors and subcontractors as they will have to use trucks for the security. Human life, however, is invaluable, and we have many examples and plenty of evidence that such protection has more than once protected people working on the roads from the serious consequences of collisions. Some companies working for GDDKiA, including Saferoad, have been using pillows for a long time.
The compulsory use of crash cushions will change the entire road company market. Today, while applying for, for example, contracts for the maintenance of routes, they competed mainly in terms of price. Companies wishing to operate safer – and for example to use crash bags – faced a more difficult situation. Their works had to be valued higher than others. From 1 January, every company will start competing for quality in this matter. It will certainly unify the rules in some way. There will be no compromises in terms of the safety of the road works – confirms Glowania.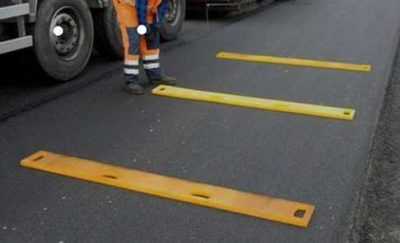 GDDKiA also tests special thresholds at work sites on highways – so that drivers of large vehicles do not slide down even a fragment of their truck to the emergency lane.
Source: Twitter / GDDKiA
In addition to the obligatory, better security measures for road workers, GDDKiA is slowly testing new solutions. They are, among others speed bumps, imposed on the emergency lane. They are to warn truck drivers against road works on the horizon, because it happens that drivers of large vehicles drive out of their lane and the car's outline already enter the lane where work can take place.
– Such thresholds appear on some road sections – says Aleksander Glowania. – Time will show where it is best to mount it and how it works. Any idea of securing people on the roads is the right direction of thinking. Most companies are serious about it these days. However, there are, unfortunately, also those that, for example, have poor-quality markings. Eliminating such things is a task for the investor – it must require good materials and proper traffic organization.
Source:
Przełom w Polsce. Obowiązkowe poduszki zderzeniowe ochronią drogowców