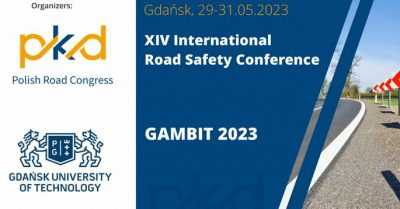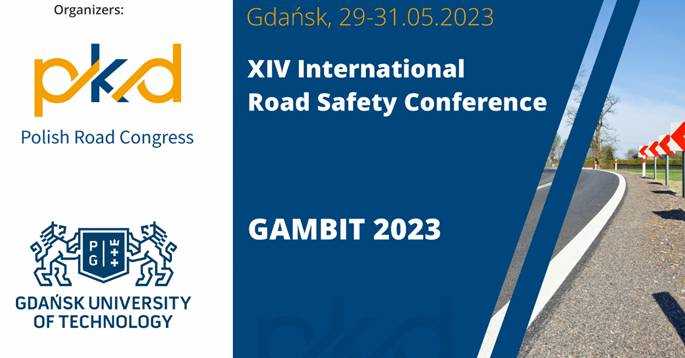 XIV International Road Safety Conference GAMBIT 2023 "New Decade – New Actions – New Technologies" was organised by the Faculty of Civil and Environmental Engineering of Gdansk University of Technology and the Polish Road Congress on May 29-31, 2023, in Gdansk.
The theme of the Conference focused on the challenges and conditions for improving road safety in the coming decade 2023-2033. The audience was represented by scientific institutions, government, national and local road administration, police officers, firefighters, teachers, business, and private companies.
Topics for this year's Conference included:
Global social changes as challenges for road safety
Trends and good practices in the design of safe road infrastructure
Proactive methods and tools for road safety management
New technologies – threats and opportunities for improving road safety.
During the conference project workshops were being held about road safety management methods and tools developed as part of the projects EuroS@P and InfRo@D.
 The Motor Transport Institute took part in the conference and presented three papers on:
Maria Dabrowska-Loranc, Dagmara Jankowska-Karpa, Anna Zielnska, Motor Transport Institute: European research to determine the effectiveness indicators of actions in the field of road safety,
Maria Dabrowska-Loranc, Motor Transport Institute, Emil Lopata, Heller Consult sp. z o.o., Anna Zielinska, Motor Transport Institute: The impact of sectional speed measurement on drivers' behaviour on the example of the S8 express road in Warsaw,
Ewa Odachowska-Rogalska, Motor Transport Institute: Risky driving behaviours in road traffic – new trends,
Prizes in the competition named after prof. Ryszard Krystek were awarded during GAMBIT 2023 conference. The winner of the best master's thesis was Jacek Bartusiak, and the best doctoral dissertation was Sylwia Pazdan.
More information about the conference on organisers; website: XIV International Road Safety Conference GAMBIT 2023 – Kongres Drogowy

Programme GAMBIT 2023