In Poland motor caravans are not so popular like in other countries. Total amount of the vehicles in 2020 was 708 (from January till August), but it still rises.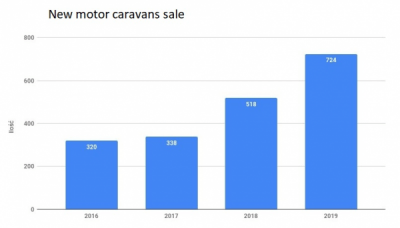 The data for 2016-2018 clearly shows that the caravans market in Poland has clearly and dynamically developed. In 2018, a total of 518 new vehicles were registered, an increase of more than 50% compared to the previous year. However, what happened in 2019 surprised even the greatest optimists. It was another record year, and the market – with the result of 724 vehicles – grew again by almost a half. Among the most popular brands are Volkswagen, Dethleffs, Adria, Roller Team and Sunlight. These five companies together accounted for over 50% of total sales.
In 2019, new emission requirements were adopted. In motor caravans, built on the basis of Peugeot and Citroen base cars, the engine capacity changed from 2.0 l to 2.2 l, which when imported to Poland was associated with a change in the tax rate from 3.1% to 18, 6%. That is why most of the dealers of such vehicles, in the first half of 2019, imported a large number of vehicles with an older engine. They had to be registered by the end of August 2019. It can be assumed that almost all of them will remain in our country and sooner or later they will end up in the hands of private users.
The top ten most-chosen brands include companies that are well known to caravanning enthusiasts. Roller Team, Adria and Dethleffs were on the podium in 2018. In the seventh place in terms of sales volume in 2018, CI – Caravans International – an Italian manufacturer belonging to the Trigano group, was placed. Dethleffs is also surprising as he moved up to second place in 2019. And if we add the result of Sunlight (a cheaper brand, owned by the same concern and sold by the same dealers), we can speak of not only a promotion, but also almost domination on the caravans market in Poland (147 were registered in total).
It is no surprise that motor caravans with a Gross Vehicle Weight of up to 3.5 tons have the smallest share in sales. In total, in 2016-2019 it was 35 units. This market segment is dominated by brands considered as luxury – Carthago (8), Concorde (4) and Morelo (5). It was followed by Buerstner, Dethleffs, Laika, Hobby and Eura Mobil.
Another interesting criterion of analysis is  the number of driving seats. A few years ago, this type of vehicles intended for a large number of people were the most popular. Vehicles with six or seven seats dominated. Currently, the largest group are vehicles for four or five people (nearly 80% of total sales).
Individual imports does not play big part in the market. In 2019  there were only 34 such vehicles.
To the number of new caravans registered in Poland, a total of 238 vehicles should be added in 2019 (and 224 in 2018). These are cars originally registered as lorries, then built-up, and after re-purpose, registered as special motor homes. In this model, motorhomes are produced by a number of smaller and larger companies. The largest is Krakow's Elcamp, which, according to data from CEPiK, under the Globe-Traveler brand, registered 24 such cars in 2019 (4 Fiat Ducato and 20 Peugeot Boxer). All of them were delivered to customers in Poland. This procedure allows customers to avoid paying high excise duty, because trucks are exempt from it. Since the excise duty is paid only once, before the first registration, it is no longer required to pay after the change of destination. In 2019 the regulations changed and now customers have to pay excise duty after making the changes.
It is already known that 2019 was an absolutely record year when it comes to sales of new motor caravans. Perhaps, in part, this is due to the fact that PSA has withdrawn the HDI engine with a capacity of 2 liters and replaced it with a 2.2-liter unit. due to the higher excise duty. We know that some dealers ordered a significant number of vehicles with the engines offered so far in 2019. It certainly had an impact on the sales volume, but rather the number of vehicles registered in Poland.
There is a huge increase in interest in motorhome tourism caused by the COVID-19 pandemic. However, the supply of motorhomes is much smaller than in previous years, due to downtime and huge delays in the implementation of orders in automotive plants.
In 2020, 708 motorhomes have already been registered in Poland. The number may not be too impressive, but it's the context that matters. 708 registrations from January to August means a year-on-year increase by as much as 24.4%. What's more, now, only after eight months, Poles have bought more motor caravans  than in the entire 2019.
Change is  noted also on the used market. In 2020, there were imported 1,157 motorhomes from abroad, which, compared to the same period of 2019, means an increase of 23.3%. Last year's result (1,282 for the whole year) will almost certainly be exceeded already in September. The end of summer and the beginning of autumn were still a good time for family outings.